Revenue Cycle Management & Billing Services
Insight RCM (a division of Insight Practice Partners Medical Group) combines an industry proven EMR with revenue driven templates, certified coding, billing, collections, and practice management guidance to create a single install, stand alone system that can bring existing practices or new start-up clinics to full revenue potential in a minimum of time and with very manageable initial resource requirements.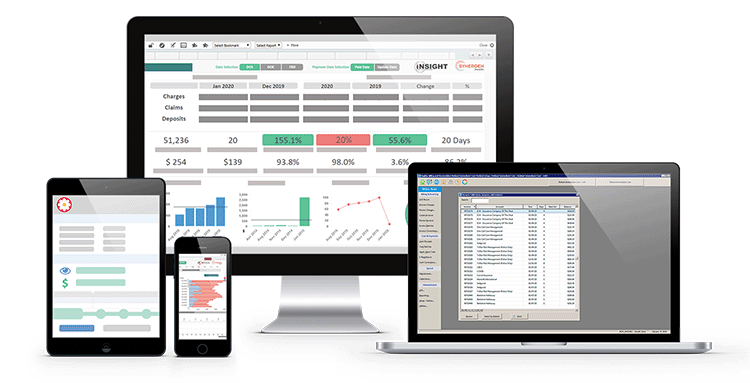 Delivering Outcomes You Can Measure
Combined with transparent reporting through custom financial & analytical dashboards, claim scrubbing, and electronic billing assure an ROI that can be measured..
CONTACT US
INSIGHT PRACTICE PARTNERS
Designed for Urgent Care and Occupational Health.
TESTIMONIALS
What Our Clients Are Saying
Sunrise Healthcare Centers is associated with Insight Practice Partners since 2012 for their RCM. This has been a very smooth and productive experience.IPP has excellent leaders and a very dedicated, efficient, helpful, and professional crew.

They have gone above and beyond to give us the right guidance and direction to manage our revenues at all times.They are always on top of the ever changing scenario of Medical Billing and Insurance Company regulations.

We could not have a better partner who is as vested in our company as weare. They always have our backs! Thank you IPP!
Insight Practice Partners has delivered on their promise. They have provided our company efficient, accurate billing and most importantly have improved our cash flow.

Their accessibility and responsiveness has been excellent and what keeps our relationship strong. They are an honest billing company that you can trust.
I own an urgent care in Florida and we have been using Insight Practice Partners for our RCM for over 6 years now. I have been very impressed with their team.

They have expertise in billing, coding, and collections and work hard to get your payments on time.Gene Howell and Michelle McGee are brilliant and responsive leaders in the field.

I would highly recommend Insight Practice Partners for anyone looking for a top notch RCM team!
Billing & Collections
What is Revenue Cycle Management?
Insight is far from your typical Billing and Collection service.
We not only include the use of a proven web hosted EMR, but we also, unlike 90% of all data entry billing services, employ Certified Professional Coders (CPC) to provide initial analyses of documents for compliance and possible missing elements.
Turn-Key Solutions
Integrating EMR, Billing, and Collections
A successful EMR installation and training are just the start of our relationship, not the end! Insight RCM stands with you and your staff with the support needed to make your practice successful, both in terms of patient care and revenue enhancement. Insight becomes a working partner and practice advisor to assure mutual success.
EMR & BILLING SOFTWARE INCLUDED
Our cloud based EMR incorporates both the practice and management functions, along with electronic medical records.
NO HIDDEN CHARGES - ALL INCLUSIVE
All private claims are sent via an electronic submission. Work Comp claims are sent via electric (if carriers accept electronic claims).
ONLY CERTIFIED CODERS USED
Insight uses only Certified Coders (CPC). We mandate that our coders remain educated and up-to-date on all industry changes.
PAID ON PERCENTAGE OF COLLECTIONS
All state-mandated forms are automated eliminating hours of valuable manual time.
FINANCIAL & ANALYTICAL DASHBOARDS
Each chart is reviewed to ensure documentation is completed maximizing reimbursement.
AGGRESSIVE COLLECTIONS & APPEALS
Insight's policy is to "leave no dollar on the table." We understand that most practices' profit margins exist within charges being properly paid.