Designed for Urgent Care and Occupational Health
Revenue Cycle Management & Billing Services
Insight is far from your typical Billing and Collection service. We not only include the use of a proven web hosted EMR, but we also — unlike 90% of all data entry billing services — employ Certified Professional Coders (CPC) to provide initial analyses of documents for compliance and possible missing elements..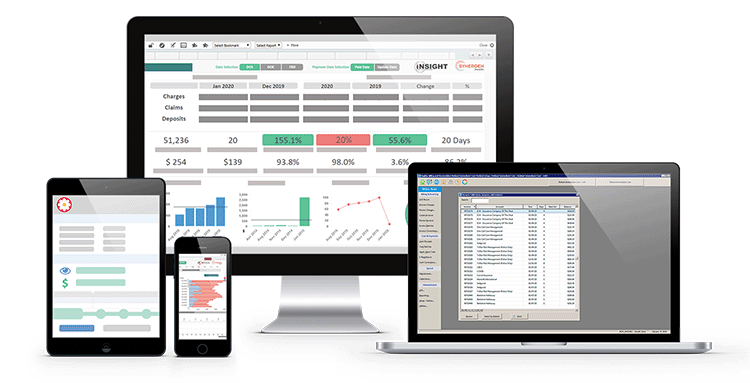 NO DOLLAR LEFT ON THE TABLE
What is Revenue Cycle Management?
On our watch, charts that would normally be down-coded or sent to review companies are held in abeyance, and providers are given the opportunity to review our recommendations and make accordant charting amendments to maximize reimbursement. This approach, combined with an aggressive appeal/dispute system, ensures that "no dollar is left on the table".
Part of Insights analyzation process is to look for deficiencies in charting that can be corrected through our Visit Ticket feedback system. This gives a clinic owner piece of mind that providers are doing the work
Bill for Everything You Do
Our certified coders analyze each visit's notes comparing them to the charges, ensuring the charges are medically justified and every charted item is accounted for and billed.
Aggressively Go After Denials
When it is realized that clinics have an initial denial rate of up to 30%, the handling of denial letters and appeals means the difference between financial success and failure. Many billing services just write off charges not being paid, never investing the time to appeal items that are compensable.
Occupational Medicine

Urgent Care

Orthopedics

Physical Therapy
Agility by Net Health is the only EMR developed for Occupational Medicine from its inception.
While other EMRs may have an Occ Med add-on module, Occupational Medicine is at the foundation of our EMR. Features such as the ability to automate all mandated workers compensation forms, to use separate fee schedules simultaneously, and the ability for Occupational Medicine clients to view their own company specific data within the program accessible via a unique password, make Agility the most Occupational Medicine friendly EMR on the market today. In addition, Agility offers you the ability to give your employers a secure web log on, allowing them to check statuses, future and past appointments, and produce many industry and OSHA mandated form..
Urgent Care Medicine requires an EMR specifically designed to meet the unique challenges of our specialty.
The Urgent Care EMR must assist in patient flow, not hinder it. It must be cloud-based, avoiding difficult installation and new hardware purchases. It must be fast and easy to operate by both providers and staff and be functional day one. It should avoid expensive up front licensing fees and be economical operate. But perhaps most important, providers must be able to use the EMR to create accurate medical records for high quality medical care, meet regulatory and hi tech stimulus documentation, be medically and legally sound, and record clinical activities to create a true and accurate record of charges. Insight provides all of these through its Urgent Care Agility EMR..
Insight has developed Orthopedic EMR templates
Our Orthopedic EMR templates can be used in a standalone Orthopedic Practice, or to allow clinics to integrate Orthopedic consultation into their Occupational Medicine practice, assuring that their Orthopedic consults are documented and billed properly, and reports are generated in a timely and compliant fashion. Insight Orthopedic practices get all of the advantages of the Insight Network, such as tightly integrated coding, billing, and collection as well as Insight Network supply discounts..
Insight Practice Partners specialize in Physical Therapy EMR, billing and collection.
Properly documented Physical Therapy that supports medical necessity is an important criterion for a Physical Therapy program success. Insight template driven Physical Therapy EMR module assures that providers document their activities in a way that meets these requirements. Proper documentation, followed by Insight's fully integrated billing and collection, leads to revenue enhancement for Physical Therapy departments of any size.
Billing & Collections Services
Certified Coders
Our certified coders analyze every outgoing bill for coding and compliance.
Insight uses only Certified Coders (CPC). We mandate that our coders remain educated and up-to-date on all industry changes.

Each chart is reviewed to ensure documentation is completed maximizing reimbursement.

We aggressively appeal every denial that we believe is owed our clients.
EMR & Templates
Our cloud based EMR by is the only electronic medical record that specializes in Occupational Medicine, Urgent Care, and PT.
Developed for ease of implementation, with minimal upfront costs, ease of adoption, with the goal of becoming productive Day 1.

Web hosted EMR incorporates both the practice and management functions, along with electronic medical records.

CCHIT Certified to be compliant with Meaningful Use incentives.

All state-mandated forms are automated eliminating hours of valuable manual time.
Billing & Collections
Anyone can send out bills and bank collections. Many billing companies, especially those associated with EMRs, stop there. Not Insight. We are dogged and tenacious. We are paid when you are paid
All private claims are sent via an electronic submission. Work Comp claims are sent via electric (if carriers accept electronic claims).

Collections are handled in-house, using soft collection techniques to ensure that the patient-doctor relationship is never compromised.

Insight's policy is to "leave no dollar on the table." We understand that most practices' profit margins exist within charges being properly paid.